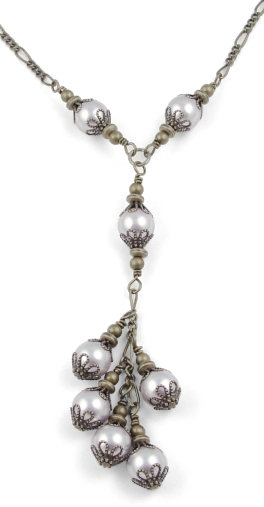 Pearls & Lace Necklace
Available in 10 Colors
This lovely, vintage style necklace is hand-crafted from antiqued, solid brass chain and spacers, Swarovski™ crystal pearls, and delicate filigree brass beadcaps. A cluster of beaded drops falls from the middle of the design.
My Pearls & Lace necklace will be made to order just for you. You can select from ten different pearl colors (it is pictured in lavender). You may also choose the length - the lengths listed in the options menu are for the length of the part of the necklace that actually goes around your neck, and does not include the length of the beaded drop, which is a little over 3". Personally, I like this design best made as a choker length necklace.
OMN1-AB
Pearls & Lace Necklace
$34.95