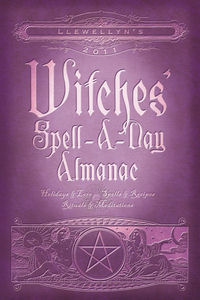 Llewellyn's 2011 Witches' Spell-A-Day Almanac
Holidays & Lore
Add a little magic to each day in 2011. The quick and easy spells in this almanac make it perfect for beginning spellcasters and busy Witches. Cast a shadow spell, make a protection charm, scry with a magic mirror—the bewitchments, recipes, rituals, and meditations in Llewellyn's Witches' Spell-A-Day Almanac help you use the unique energies of each day and season to gain skill in your Craft and enhance your life.
For your convenience, the 365 spells are cross-referenced by purpose: love, health, money, protection, home and garden, travel, and communication. This handy spellbook features space for notes and a wealth of spell-crafting essentials so you can create your own spells.
Planetary influences for each day
The Moon's sign and phases
A glossary of magical terms
Pagan holidays and lore
Color and incense correspondences for each day
Timing tips to add planetary power to your spells
The magical workings in this spellbook were composed by many of your favorite Witches and writers: Chandra Alexandre, Elizabeth Barrette, Castiel, Dallas Jennifer Cobb, Raven Digitalis, Ellen Dugan, Abel R. Gomez, Ember Grant, James Kambos, Sharynne MacLeod NicMhacha, Paniteowl, Susan Pesznecker, Diana Rajchel, Laurel Reufner, and Tess Whitehurst.
264 Pages
Product currently unavailable.