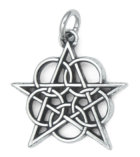 The Ringed Pentacle
Excelsior Pewter Pendant
The Ringed Pentacle is one of many manifestations of this powerful symbol. Its beauty lies not only in it's symmetry, but in it's mysticism. The ringed pentacle combines the sharp lines of the masculine nature, with the soft, circular form of the divine feminine. This unity creates a symbol of endless possibilities for magic and creativity. The weaving of the circles throughout the pentacle, provides a mandala for meditation on the infinite cycles of life.
Double-sided pendant measures 1" in diameter, and includes a long, satiny cord, and a descriptive lore card.
| | | |
| --- | --- | --- |
| MP-134 | $16.95 | |