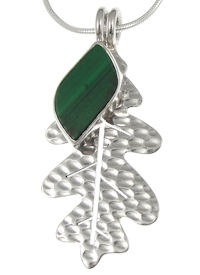 Spiritual Strength Pendant
Sterling Silver and Malachite
The oak tree has been sacred to the Germanic and Celtic tribes, symbolizing strength, truth and steadfast knowledge. It was believed that doors made of oak wood would protect a home from negative forces. This white oak leaf reminds us of this ancient connection. It is complemented by a malachite stone, the energy of which is said to be balancing. It is a protective stone; provides strength for the journey of life, clears the path and helps us to accept responsibility for our actions.
This leaf drop measures 1 3/8" tall, and the malachite drop is 3/4". A chain is not included, although in can be added from the buy menu. This pendant includes a small card explaining the symbolism of the design.
| | | |
| --- | --- | --- |
| ISN-40 | $23.95 | |